.embed-container { position: relative; padding-bottom: 56.25%; height: 0; overflow: hidden; max-width: 100%; } .embed-container iframe, .embed-container object, .embed-container embed { position: absolute; top: 0; left: 0; width: 100%; height: 100%; }
The Pro's Kitchen
Have you ever heard the saying, "The Kitchen is the heart of the home." At The Pro's Kitchen we truly believe that. We believe the kitchen stands at the core and acts like a nucleus as we initiate and create meals that fuel the body, sustain energy, promote activity and growth, encourage health and wellness, and support peak performance in the lives of ourselves and the ones that we love. It's also a place where we make meaningful connections not only with our food, but with one another.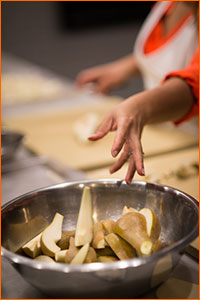 While it might ring true that an athlete is created on the field, in the gym, or on the court, one thing remains certain: The kitchen is where the athlete's ability to perform like a star begins. The kitchen is where these high performers and all other high performers come to fuel, nourish, and sustain their bodies. There is no doubt that these individuals are high performers, but the fact is we are all high performers who have the desire of being stars at our own game.
In The Pro's Kitchen we are here to serve and to coach those high performers and their families on how to live a healthy, whole, and well balanced life all while encouraging them to perform at their peak. In The Pro's Kitchen you will find more than just vitamins, supplements, minerals, and protein shakes. No, our kitchen is full of high-quality nutrient dense whole foods that satisfy the hearts, minds, and appetites of high performers. We approach food the same way we approach the game: with passion, flare, excitement, and with our whole heart. Our kitchen is filled with energy, aromas, textures, and flavors. So, come join us and learn how to eat and live like a pro – find resources, whole food recipes (that deserve their own cheers), Pro advice, Pro inspiration and ways to connect and work with us privately. Stay for a while and leave with your own personalized playbook on how to live at your peak.
⊛