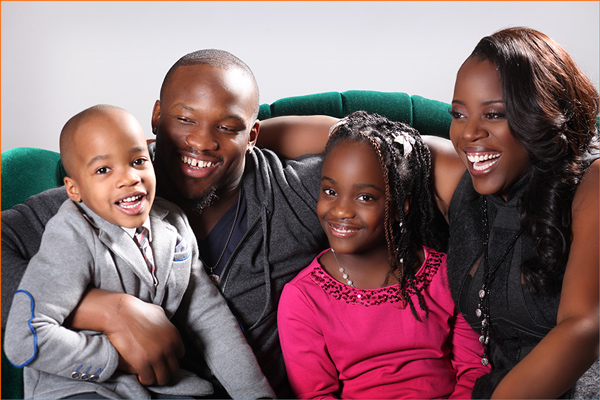 We want to share some of our friends who strive for health just like we do.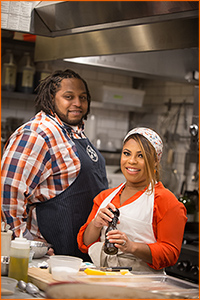 — Mike & Bianca Patterson
Meet Our Pro Friends
Joe & LaToyia Mays – Pro Football & Chicken Farming
Tell us a little about yourself, your husband and family?

We are a very close-knit family, we do almost everything together. We love to travel, explore and experience new things. We are ever-changing! My husband is entering his 8th year in the NFL and this league has taken us on what I call a U.S. Tour! We've been on 5 NFL teams across the country, the latest being the New York Jets. I am looking forward to being near the city! Since we homeschool our children, being near the "City of Dreams" will allow them the opportunity to take different classes to supplement their studies. You can find a class for pretty much anything there… a world of adventure awaits.
What is your favorite dish to prepare?
Well I'm still trying to figure out what my new favorite dish is since we've stopped eating meat. We only eat fish and seafood from that category and I think before long we may go full Vegan! I would say that I like to find different ways to prepare our fresh eggs. We have a small flock of chickens and my girls are very spoiled, but even better they spoil me with those delicious eggs. And yes, they taste way better than the ones you buy at the market.
Tell us a little about your chickens?
The Gangsta Boos – I like to call them that, LOL! They are rotten! They get treats everyday along with a few hours of foraging and play time. I usually bring them bread, fruits, vegetables, seeds or even dried worms. Its funny because some of them won't touch the fruit and they are skeptical of new things. They ALL love tomatoes and go crazy for the worms.
What types of chickens?
I have 2 Cochins (1 white-Snow boots and 1 black-Foxy Boots) and they are sweet as pie! An Americauna named Bunny (because of the blue egg she lays), 1 Buff Brahma named Star and 2 Wyandottes named Cinnamon and Twilight.
When did you start raising chickens?
I starting raising chickens in 2013.
Why did you choose to raise your own chickens?
We had started trying to eat and live healthier. I started growing tomatoes and some herbs and we started composting to feed the soil. The more I learned about foods, the more I wanted to control some of the foods we consume. My neighbor, Pam Grier, took me to a feed store down the road from us and I fell in love with the baby chicks there. We bought 4 that day!
What makes your eggs different (in comparison to store bought)?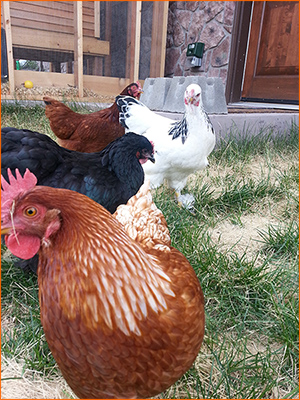 What makes my eggs different is the feed and care that I give to my flock. They eat fresh fruits and veggies on top of a grain diet. They are allowed to forage almost daily and they live in a comfortable environment. They have heat in the coop for winter and an A/C for those hot summer months. You can almost taste what they've been eating through the flavors of the yolks. And no we are not eating chicks. I get asked the question all the time by people who don't know… No rooster, no chicks!
Who is primarily responsible for caring for the chickens?
I am responsible for the care of the chickens. Come on, you know Mama does EVERYTHING!
What is needed to raise your own chickens and what type of day-to-day care is required?
They are fairly easy to raise. There are large feeders that you can hang in a dry place and water containers that prevent dirty water ( which means if you work or travel, you can afford to leave them sometimes). The most important thing is keeping them safe from predators, so I built an enclosure on cement with mesh wire and wood to keep them out at night. My girls sleep peacefully!
Would you like to expand to more animals?
I would, will my husband let me??? LOL. Oh but we do have catfish in our pond.
What is the most interesting dish you have prepared with your eggs?
I make a good tomato soup with eggs. I call it a tomato bake! Click here for:Baked Egg Tomato Soup Recipe
Does your husband cook?
I wish! He keeps saying that I should teach him, but he doesn't really want to learn. (side-eye)
Do you meal prep?
I don't meal prep, but I might start. I want to use the Jar method, it will give me an excuse to buy that expensive machine from Williams Sonoma. I love Williams Sonoma and all their kitchen gadgets.
What is one tip you could offer to help others to get a healthy home-cooked meal on the table regularly for their families?
Prepping would definitely help if time is limited. Puree some tomatoes for sauce, crush some garlic and chop some herbs. Have them ready to go so it doesn't take as long and you can throw away those crappy powdered seasonings! Remember when going to the market was a daily thing? When did we start freezing everything and when did food start lasting for 2 weeks to a month? FRESH! FRESH! FRESH!
How does "preparation" influence your life both in and out of the kitchen? And how does your prep influence your outcomes?
Ha! My family would probably tell you that I prep too much! I am always thinking of what to do before I do it. I am a thinker, so everything requires preparation. But you can also ask those same people how easy it "LOOKS" when I actually do things!
How has food influenced your life?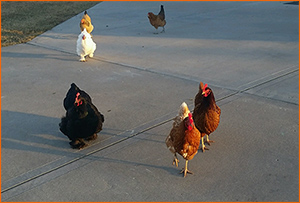 Food is continuing to influence my life. As I study plants and herbs and their medicinal qualities, I am finding that God already placed everything we need right in front of us! We are so busy worrying and being obsessive over the way things appear that we miss the beauty in everything. Food is directly related to health and wellness. My theory is that if we had been living and eating from the land, we wouldn't have as many sicknesses and/or ailments as we have in the world today. "An apple a day keeps the doctor away" isn't just a funny quote! Apples can be used to control constipation; and for the softening, passing and collection of gallstones. They are used to prevent major illnesses, especially in the lungs, for diabetes, fever, heart problems, warts and vitamin-C deficiency. And thats just apples!!!
Have you ever used food as a home remedy or to help with recovery?
Funny you ask because we have stopped using medication for most illnesses in my household. We use Eucalyptus and basil for colds. I have my children drink what we call an Allergy and Asthma tea. I've even made an herbal tea for my husband that helps with pain and inflammation. Recently I made a skin cream for my children using Sassafras and Fumitory for their eczema. I am currently in the scientific phase for a line of health products.
Do you have a story about how food was a contributing factor to healing/recovery, performance, and or overall health?
I hope to have a huge success story very soon, as I am using my husband as a, for lack of better words, Guinea Pig for my health line geared towards the ailments that plague people in his line of profession.
We understand that you have gained an interest in herbal therapies. What are you currently using them for and have you seeing or experienced improvement in any area of your health or wellness?
My herbal teas for inflammation and healing, eczema and cream for pain all work. I am fine tuning the variations and formulas! I do have a website that I will post new information on regarding Wellness. It is new so bear with me on this, I have a lot of things in the works! On my site NaturallyaMAYSing.com under the Wellness tab, there is a link for information on herbalism. I am working closely with The Magical Herb Goddess on what we call "Herbal Magic."
Still wanting to know more about The Mays' Family – Check out LaToyia's answers to our "Rapid Fire – 21 Question Game."
⊛