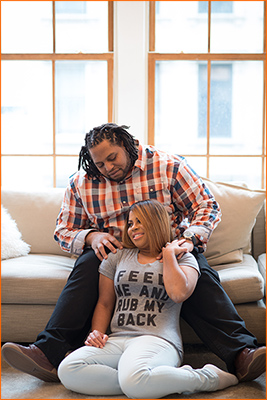 Say It With A Smile!
I can say it with a smile and I can say it with a t-shirt – I love food! I have always been a person who loved a good quote or saying. So it came as no surprise to me that when I came across these ThugLifeShirts, I knew I would have to purchase a few. These thin and lightweight shirts are made by American Apparel® and offer a relaxed, distressed grey look. The "thugness" (is that even a word? Please excuse my verbiage as it's coming from a girl born and raised in Orange County, CA.) is reenforced by the saying appearing to be spray-painted on with a stencil. I love to wear them with a great pair of holey jeans at a casual get together, barbecue, or just simply lounging around in the house.
My favorite t-shirt has to be the "FEED ME AND RUB MY BACK," as this is almost the exact experience witnessed in my house every night. I say "almost exact" because for it to be more accurate it would have to say, "LET ME FEED YOU AND THEN RUB MY BACK." Call me spoiled (I'd rather use the term loved), but, in our house, every night ends with me being the recipient of a good ole fashion back rub. I tend to think that it is an even exchange – food for a back rub. But in all truthfulness, I am grateful that after long days of squaring off with offensive lineman, my husband is always willing and able to use those same hands to offer a tender touch.
⊛